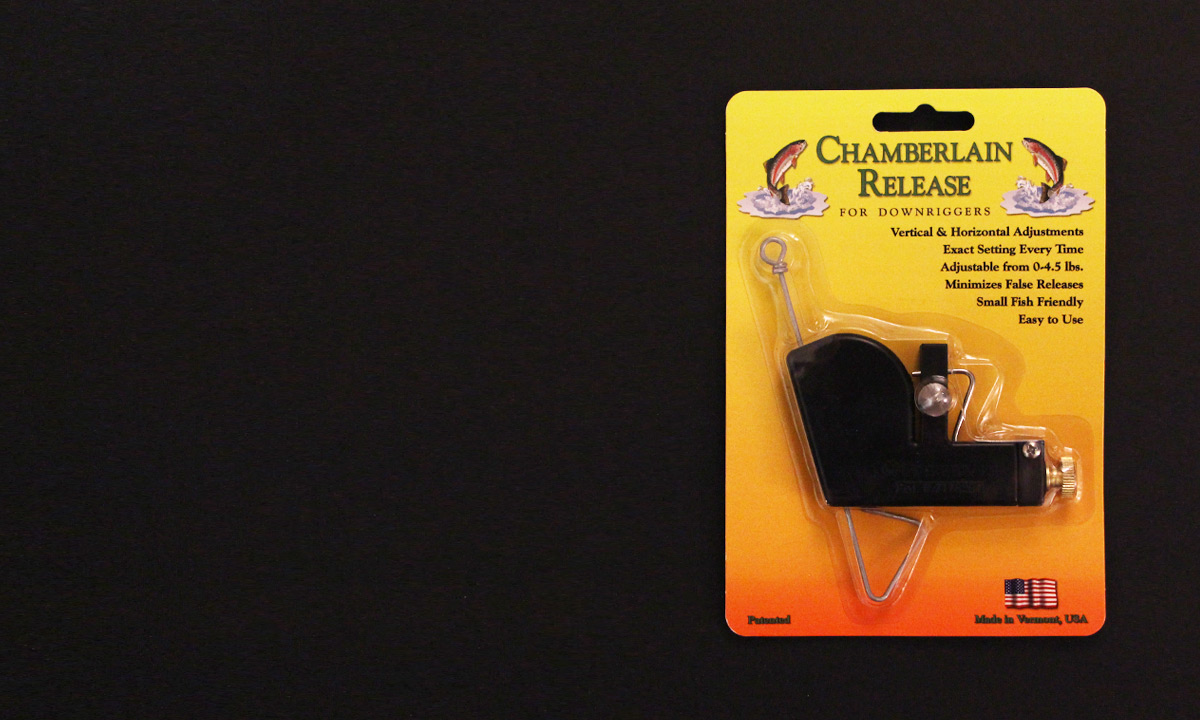 ORIGINAL
CHAMBERLAIN
RELEASE 107
Fish with more confidence and control than ever before!
False releases and small fish that are not detected are the two major problems with downrigger fishing. The Chamberlain release is designed to eliminate both these problems with the patented design of two adjustments.
First, the vertical adjustment (rod side) is unique in that it allows the fisherman to put extra downward pressure (loading the rod) against the release while fishing. This is critical because the instant a fish trips the release, the slack between the rod and the fish is removed more quickly. This gives the fisherman an almost instant hookup.
Second, the horizontal adjustment (fish side) is very sensitive and needs only a small adjustment each time to achieve a precise setting. Fisherman should start out on a light setting and adjust the release until the exact setting is reached for that particular lure. The Chamberlain release is so sensitive that when properly adjusted, it can take only ounces of extra drag (caused by small fish, debris or even a strike) to release the line.
$24.99
---
Includes shipping & handling for only the United States.
Shipping for other destinations will be added during checkout based on the values listed below:
Canada
$12.00 per order
International
$25.00 per order
Product Images
Video Demonstration
Technical Details
This product is suitable for use in both fresh and salt water. To ensure the longevity of your release, please be sure to rinse the product in fresh water after using in salt water.
Horizontal Adjustment Chart
| | | | | | | | |
| --- | --- | --- | --- | --- | --- | --- | --- |
| Turns out | 0 | 1 | 2 | 3 | 4 | 5 | 6 |
| Tenths of Pound | 4.5 | 3.0 | 1.9 | 1.0 | 0.6 | 0.3 | 0 |
US Patent # 7178284
Canadian Patent # 2581456
Made in the USA